the BAZOOMIS

New Southgate
Metin Kamil - Vocals
Miklos Toldi - Guitar

Tim (Themis) Christodoulou - Guitar

John

Christoforou

(aka Johnnie Christo) - Bass
Arnold Lane - Drums
Formed in late 1976 in New Southgate, London N1, the Bazoomis (Russian for "Madness") certainly lived up to their name. Along with "Blitz" they were the hottest act on the punk club circuit during the latter months of 1977.
A blistering mix of The Stooges and MC5, the Bazoomis had the audience going nuts from the off with Met careering around the stage looking like he was on day release from 'Rampton Mental Hospital'.
Dressed in old leather jackets, spikey hair and eyeliner, no one would even think of messing with this lot, they all looked seriously damaged.
Headlining the 'Roxy Club' on Saturday nights, due to popular demand, more than any other band, they also shook the walls of the 'Vortex', 'Nashville', 'Marquee' and even ventured out to the 'Greyhound' in Croydon where they went down a storm with the local punk crew.
Unfortunately, even one of the most promising punk live acts need somewhere to play and they soon fell foul of the closure of the 'Roxy' and 'Vortex' as well as the main pub circuits fear of punk bands and their following.
The Sex Pistols were not the only band to implode at the start of 1978, anyone know what happened to these mad North London Punkheads??
Their Set List included such gems as....
DON'T LISTEN TO WHAT THEY SAY.
GIVE IT ALL TO ME.
Live at the "Marquee Club", London 1977

The above three 'Marquee' photos were taken by "Julia Smailes".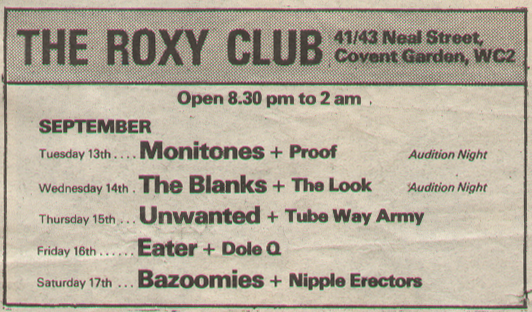 The above gig date appeared in "Sounds" and is from
Saturday 17th September 1977.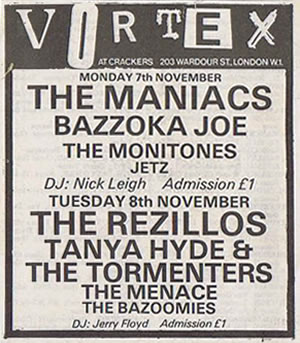 The above gig date at the 'Vortex' is for 'The Rezillos', Tanya Hyde & The Tormentors', 'Menace' & 'The Bazoomis' and is Tuesday 8th November 1977.
Thanks to "Joe Public" & "Arnold Lane" for the above information

2007