THE TOADS

Norwich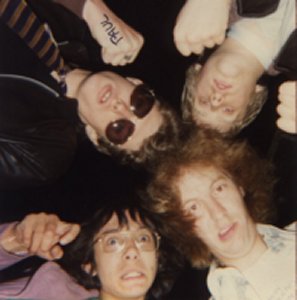 Looking mean and moody. Clockwise from top left:

"Paul Cheetham", "Dave Smith", "Polo", "David Viner".

The photo was taken somewhere along Thorpe Road one night.
In 1977 Punk Rock finally hit Norwich and it wasn't long before bands started to spring up. 'The Toads' claim to be Norwich's first Punk Rock group. The line-up consisted of 'Dave Smith' on vocals and rhythm/bass guitar, 'David Viner' on vocals and rhythm guitar, 'Paul Cheetham' on vocals and bass/rhythm guitar, and 'Alan (Polo) Pollard' on drums.
The band formed in late February 1977 after 'Dave Smith' placed an advert in "Cookes Band Instruments" shop window. Neither Paul nor 'David Viner' had played live in bands before but they had got together with a few work mates the previous year where they rehearsed a selection of songs mainly by the Beatles, T. Rex and the Wurzels (yes the Wurzles). 'Polo' had been drumming with quite a few bands and 'Dave' had played one gig in a band called "Dick Dangler and the Testicles!"
Sometime in May or June the band entered "Touchstone Studios" which were located just off Duke Street to lay down some of their original songs.
That day three songs were recorded:
Blood on my Wheels (Viner)
I Don't Care About You (Smith)
Eyes (Viner)
'Paul' had wanted to record one of his songs but on the day of the recording he had laryngitis (or some other throat ailment) and sadly couldn't sing.
Somewhere between 24 September and 8 November, 'Paul Cheetham' decided to quit the band due to 'musical differences' (as they say). Therefore, 'Dave' had to learn to sing lead and play bass simultaneously. We tried out a couple of other guitarists after 'Paul's' departure but none seemed to fit in and so we decided to stay as a three-piece.
Later rehearsals at "Ranworth Village Hall" were taped onto cassette. Some were edited into a demo tape in Autumn 1977 and sent to various record companies (who didn't want to know, surprise surprise). The first "Wymondham College" gig was taped on a portable cassette recorder that had nearly flat batteries - it's hard to make out what was going on - you had to have been there to appreciate that tape!
Our typical set list included some gems as:
All I Wanna Be Is A Star (Viner)

Bad Time (Smith)

Bank Job (Viner)

Blood On My Wheels (Viner)

Eyes (Viner)

Fatlip (Cheetham - he wrote this after someone beat him up because he was a punk, he did have a fat lip for a few days!)

Get Ready (Smith)

I Don't Care About You (Smith)

I Hate Japan (Lyrics: Smith; Music: Cheetham)

I'm So Bored (Cheetham)

In The Subway (Smith)

Mixed Up Kid (Smith)

Never Happen Here (Viner)

Nowhere To Go (Viner)

On The Run (Smith)

Shit Parade (Lyrics: Smith; Music: Viner)

Slimey Toad (Cheetham)

Stick It Up (Smith)

Suppression/Oppression (Viner)

You're So Blank (Smith)

You're The Girl (Smith)
At the end of 1977 we had decided to 'take some time out' and try to improve our material. Unfortunately, in early 1978, the enthusiasm died out and the group broke up.
'Paul' moved on to do his own thing and started up a new band called 'Ebonyset' who were a New Romantic / Goth type act. 'Dave Smith' and 'Polo' started up 'Silent Noise' (yes the same band who released the killer track "I've been hurt (so many many time before")) .

A rather strange pose at South Walsham village hall (one of the rehearsal haunts).

Left to right:

"Paul Cheetham", "David Viner", "Dave Smith", "Polo".
In 1977 "The Toads" played the following local gigs
| | |
| --- | --- |
| 22 April 1977 | 'Kingsway Pub', King Street, Norwich - a private birthday party (whose, I have no recollection). We managed to perform a few songs and then the whole thing was stopped by the pub landlady who hadn't realised it was going to be a punk party and didn't exactly like us a lot! |
| 5 June 1977 | 'Wymondham College' with another local group, the 'Victims', who we had met at a concert at 'West Runton Pavilion' (once one of the main gig locations in Norfolk and now almost forgotten about - in 1977 it hosted, amongst others, 'The Jam', 'The Damned', 'T.Rex' and, oh yes... 'The Slits'). |
| 12 June 1977 | Cambridge Street Queen's Jubilee Street Party, Norwich. Also playing were 'The Stain' |
| 30 July 1977 | 'Charing Cross Centre', St John Maddermarket. Also playing were 'The Victims' plus 'The Bondage Boys'. |
| | |
| --- | --- |
| 10 September 1977 | 'Premises Arts Centre', St Benedicts Street (which became an indoor market later on). Support group were 'The Turkey Molesters'. |
| 24 September 1977 | Premises Street Roots Party, 'Premises Arts Centre'. Also playing were 'Thandoy' and 'Here and Now'. |
| 8 November 1977 | 'Peoples Nightclub' (now 'lost' somewhere behind MacDonalds in Westlegate). We were the support band to 'Rumblestrips' whose lead singer, 'Philip Bird', now acts and writes. |
| 15 November 1977 | Peoples Nightclub' (with Rumblestrips). |
| | |
| --- | --- |
| 22 November 1977 | 'Peoples Nightclub' (with Rumblestrips). |
| 1 December 1977 | Premises Arts Centre' supporting 'The Radio Stars' (whose lead singer, 'Andy Ellison', was in Marc Bolan's pre-fame group, 'John's Children') who charged us half our paltry payment to use their PA system! |
| 4 December 1977 | 'Wymondham College'. Also playing were 'The Victims' plus 'Rasputin and His Mad Monks'. |
| 6 December 1977 | The final gig at 'Peoples Nightclub', 'Paul Cheetham' also joined us for one song. Also playing were 'Rasputin and His Mad Monks' and the 'Right Hand Lovers' (the latter sported members called 'Charlie Higson' and 'Paul Whitehouse'). |
The early gigs were interesting as we had very little equipment and sometimes two guitars had to share the same amp. The first (awful) gig also had the vocals going through a guitar amp as well. All members except Polo wrote songs and the composer of each song always sung lead on it. This caused problems as both Dave and Paul preferred to play rhythm guitar while singing lead vocals and therefore swapped over guitars if the lead changed. I didn't play bass and so stuck to rhythm.
Thanks goes to 'Mike Teo' who originally found this band for us and "David Viner" of 'The Toads' who let us beg, borrow and steal the above article. Hopefully some of 'The Toads' studio recorded tracks will appear on a forth coming Bored Teenagers compilation....So watch this space....
©Detour Records