???
Nick Sayer
????
Simon Lloyd
Mark Hogins
???

The above photo was taken in Hastings in 1977.
The Plastix were a early UK Punk band from the South Coast of England and were managed by 'Simon Watson'. Members coming from Hastings & Brighton. One of their claim to fame that they appeared on the famous "Farewell to the Roxy" album with a track called 'Tough on You'. 'Huggy', the lead singer introduces the track in his distinguished rough gravely voice by announcing 'It's nice to see a lot of you moving out there tonight....This one is for all the people out there who don't like us....' . What a opening line to get the audience on side! Also in the line-up was a young 'Nick Sayer' who went on to find fame with Brighton band 'Transvision Vamp' in the late 80s.
The complete line up of the band consisted of:
| | |
| --- | --- |
| Huggy Leaver - Vocals | Nick Sayer - Guitar |
| Mark Wilmshurst - Bass | Mark Storr Hogins - Drums |
In 1978 'Huggy Leaver' audition to be the lead singer of the Kent based Punk band 'The Rivals', but he was turned down. Then in 1979, the Mod Revival started sweeping the UK after the film 'Quadrophenia' had been shown at all the cinema's up and down the country. So 'Huggy' decided to start his own band 'The Teenbeats' with four other musicians from the Hastings area. They went on to release two singles on the 'Safari' label and a compilation appearance on the 'Uppers on the South Downs' album. Then in 1980, the band received a lot of attention from Canada of all places and had a top ten hit with 'I Can't Control Myself' on a label called 'Gamma'. The 'Uppers on the South Downs' album was also released in Canada on the same label but the title was changed to 'I Can't Control Myself'. This was a very strange and bizarre happening, why Canada of all places?
While 'Huggy' was doing this with 'The Teenbeats', 'Nick Sayer' & 'Mark Storr Hogins' started a new band called 'Fan Club' who went onto release one single on the 'M&S' label in 1978. The single was called 'Avenue' / 'Night Caller', only 500 copies were pressed and sold rather badly at the time.
Today, 'Huggy' is a established actor and has appeared in 'Lockstock and Two Smoking Barrels' along side 'Vinny Jones', has also starred along side 'Sean Connery' and as of late can be found in Eastenders' in the Miller family as 'Clint'. This is where we tracked him down after just leaving the set Eastenders. We managed to ask him a few words about 'Plastix'. He went on and said that it was the most exciting time of his life and had a lot of fun but to be honest it was just a haze nowadays as most of the time was spent out of his head!!
Mark Hogins went onto join local Brighton Punk stalwarts 'Peter & The Test Tube Babies' and was last seen working as a roadie for 'Placebo'.
Other local Punk faces that used to hang around and help out with the band but haven't been seen in ages were Eric and Ben Gilbert. Eric was guitarist of 'Anti -Art' along with vocalist 'Glen Crouch', who were another Hastings band. Rumour has it that Eric was / is running some sort off Hip Hop label over in Los Angeles. Also, their roadie Andy (Toot) Carmen hasn't been seen in years!
Mark Wilmshurst has emailed in and informs us that no studio recordings exist but their entire set was recorded for the Roxy Album (this was true for all the bands). They only used one track from each band that were included on the album (not sure if the rest were ever kept). They had an artic-truck out in the street with a mobile studio in it.
Plus the band were also recorded (the whole set) by Southern TV doing a gig with 'Subway Sect' in Brighton. This went on to be used in a documentary on Punk they put together. Hopefully we will be able to track this down. One of their tunes "9 till 5" was used as the intro sound track. They even got paid!!!!, which was very unusual at the time!!
If any one is reading this and can help out in finding these long lost faces then please get in touch as we are in desperate need of some photos!!!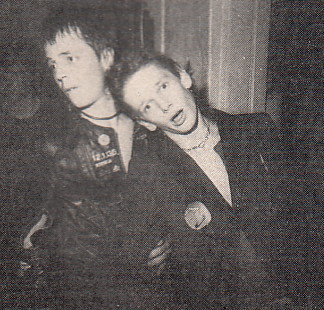 Huggy Leaver & Nick Sayer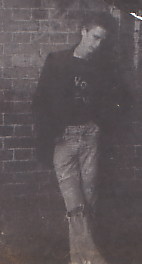 Nick Sayer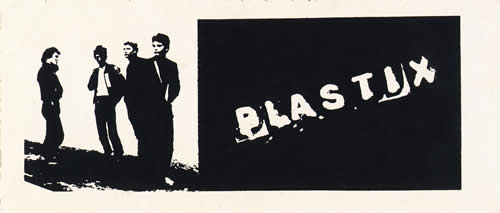 Above is an original sticker from 1977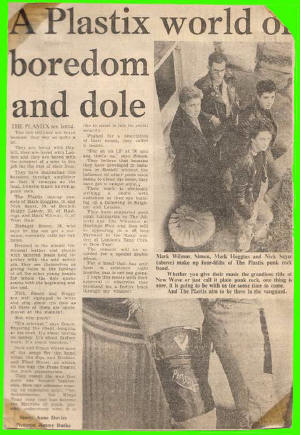 The above newspaper article was taken from the local paper from the Bexhill-On-Sea area.

The above Xmas Day & Boxing Day advert appeared in the 'NME' on 24th December 1977.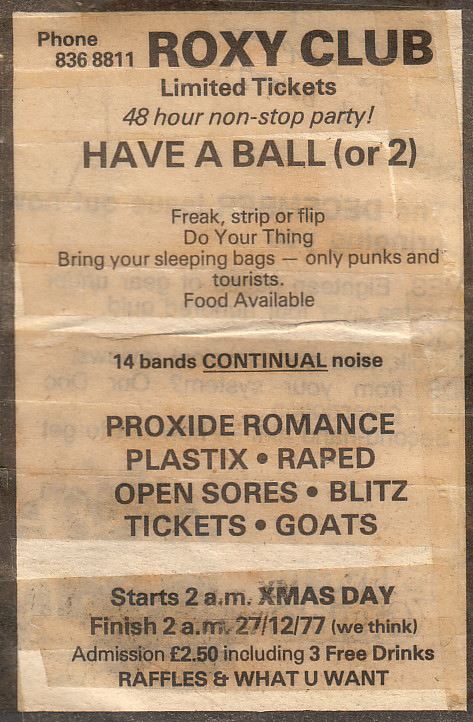 The above gig listing is from 1977.
| | |
| --- | --- |
| The above gig listing is from 1978. | The above "Roxy Club" gig listing is from 1977 / 1978 |
| | | |
| --- | --- | --- |
| The above Gig dates for the "Roxy Club" appeared in "Sounds" on 24th December 1977. | | Roxy Gig Dates for December 1977 |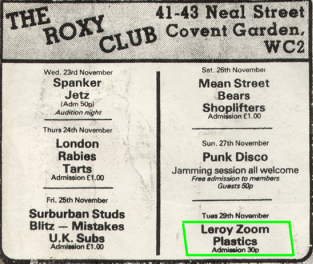 The above advert is for Tuesday 29th November 1977.
Below are some of the songs that the band did in their set
NOTHING 2 DO
ZIPS & BUCKLES
POLITICS
FLEET STREET
TERMINAL TV
TOO MANY PILLS
THEN SHE KISSED ME
CHEAP COPY
9 TIL 5
TOUGH ON YOU
Thanks goes to Mark Wilmshurst and Joe Public
©Detour Records