1976
The band originated from Cheshunt in Hertfordshire (same school as Cliff, you know) and the early line-up was Alex Kinder - vocals, Tracy Graham - bass, Den Pugsley and Tony Skeggs on guitars and Paul Titchmarsh on drums. The band had been performing locally as 'Red Whyman' for two years and had recently made demos for Rebel Records, a subsidiary of EMI.
We were signed in Summer '76 amidst a musical climate of Queen, Status Quo, 10cc, Smokie and Wings. These were staple radio fare of the time and Punk Rock seemed a world away as we entered our first recording session in Majestic Recording Studios, London.
We recorded 3 songs. In truth we weren't too chuffed with them. (Only one track 'Breaking It Down' would eventually see the light of day as B-side of the band's 1977 single.)
Then of course.... everything changed. The Pistols, The Clash, The Stranglers, The Jam. Overnight the music industry turned on it's axis and from now on it seemed no-one except The Bee Gees wore flared trousers.
We recruited new drummer Steve Bye from Aldershot and changed our name to The Jetz.
We agonised for - oh, at least half an hour and a few beers, over whether Jetz with a 'z' was a bit more cool than Jets with an 's' (and either way it was certainly better than Red Whyman?). So it was that The Jetz were born. Of course, promoters were always spelling it 'Jets' anyway so it kind of backfired. I remember winding up some phone conversation to an agent at the time..."...and could you please make sure you spell it with a 'z' on your Promo posters?!?"
We turned up at the gig to find we were billed as 'The Zets'.
I can't pretend we were that crazy about Punk itself. We loved the energy of it but even then we were more impressed by the bands that could play a bit too. The Feelgoods, The Blockheads, The Stranglers, Elvis and The Attractions etc. What was to be labelled 'New Wave' I guess. The Pistols got our 'collective nod' but generally punk wasn't our thing. I remember us all going to see Dave Edmunds Rockpile and The Motors at The Roundhouse around that time. This was probably more representative of our 1977. We loved the new attitude. Gawd knows the music scene needed a kick up the arse - and at least we did eventually learn how to play while simultaneously dodging the cascading gobbing of the front row. Along with our interest in the 'new wave', we continued collectively, to be inspired just as much by the likes of Thin Lizzy, Bowie, The Sensational Alex Harvey Band, Deep Purple, The Beatles and The Stones.
Nevertheless, like everyone else we were inspired by the climate of the time and our new songs were sharper and more energised. We signed with the Barry Collings Agency and began playing dates up and down the country.
I particularly remember a lightning trip up the M1 to Middlesbrough to step in for flu victim Elvis Costello and I also recall appearing in Coventry when The Pistols were playing a mile or two down the road. We stood outside the venue and listened to 15 minutes of their set before hastily returning back to perform our own show.
We recorded 'Catch Me' at Majestic Studios in April 1977 (along with a second track ''If That's What You Really Want''). My main recollection of the session is that perhaps unusually, the song contained 2 guitar solos - kind of split into 4. Tony plays Fender Strat on the opening few bars of the middle solo before my Gibson SG appears for the next four. A similar pattern was then repeated at the end. We thought it worked well (and I suppose it kept two young burgeoning guitar egos happy, didn't it?)
Both songs were produced by Dave (Howie) Howman, who would soon afterwards co-write music for Monty Pythons Life Of Brian. Ironic really. There would be many an occasion a year or so later where we would pertinently chorus ''Always Look On The Bright Side Of Life".
'Catch Me' was finally released in at least four European Countries - Sweden, Germany, Holland and Belgium in Jan 1978. We were disappointed to find the record company had elected to put 'Breaking It Down', leftover from the original 1976 session on the B-side. (They had put aside 'If That's What You Really Want'' as a possible follow up and it remains unreleased). We were making our first visit to Denmark at that time and I certainly recall 'Catch Me' being available there. (Maybe it was being imported from Sweden? I don't know.)
We spent five weeks playing Denmark, travelling through icy streets in our little red van. Snow whirling around in picturesque 'Hans Christian Anderson' villages and towns with names like Bronshoj, Roskilde, Koge, Taestrup and Bogo(?). Copenhagen was our 'Hamburg'. We were pretty skint and we survived on the goodwill and generosity of the locals. The Jetz would often perform for 3 hours a night and It was an incredible experience for us all. We stayed at The Pension Norden Hotel in the midst of the City, sharing the top floor with various Ladies of the Night. Within a week the girls would invite us round for parties and discuss with us the best Clubs and Bars to frequent. One night (while I was career- consciously trying to finish writing a song next door) Suzie got the other guys so out of it - and her room so full of Marijuana smoke - that her caged budgie was completely stoned on it's back, half-flapping pathetically. Within a short while the girls would be taking our agents' call and scheduling our gigs - and likewise we would schedule theirs ("She's busy till three - will 4pm be okay Sir?")
I remember we were booked to play some hell hole in Copenhagen that not only had God forsaken but even the Danish Police had agreed was a no go area. We had been warned that this club regularly witnessed violence and murder but as much as we didn't fancy being next on the list we decided (probably against our better judgement ) to honour our contract. My abiding memory will forever be of this huge, monstrous, bearded Viking at the front of the stage waving his hand gun toward us, demanding ''Play Johnny B. Goode!!''.
Of course we would have played 'Johnny B. anything' at that point and we eventually all got out alive. Was the gun loaded? We weren't about to call his bluff and neither would have you.
Before we left Denmark we decided - in a typical moment of 'tour craziness' - to all dye our hair black before we left for England. Well, you do these things when you're young, don't you?
We returned in late February to our home country where - of all places - we couldn't get the record released. Devastated was probably too strong a word...but we were pretty deflated.
The Jetz parted company with Rebel and set about recording new demos and playing various gigs up and down the country. The Music Machine and Dingwalls in Camden Town, Barrow-in-Furness, Reading, Oxford and supporting The Boys at Hitchin College as well as local venues such as The Wolsey Hall in Cheshunt. A nice memory is when Dr. Feelgood's front man, the great Lee Brilleaux stepped in to sing a couple of numbers with the band at The Zero 6 in Southend.
But...somehow the impetus had been lost. The familiar scenario with so many bands then ensued. We spent the year fruitlessly trying to make appointments with half-arsed A&R, attempting to drag them out of their hovels on a damp night to some crap venue - and failing miserably.
By summer '78 drummer Steve Bye had left to join The Physicals and was replaced by Andy Welsford from Bristol.
We were invited back for another five week tour of Denmark in March 1979. It was fine but we all perhaps sensed that it was time to move on and try something else. Bassist Tracy Graham had met a girl while in Copenhagen and although The Jetz arrived back in England on April 9th, Tracy would soon return to a new life in Denmark.
Alex, Tony, Andy and Den - now on bass guitar - continued briefly as Ricky and The Prefects before signing with Tom Watkins and starting over as The Pencils in 1980.
Alex Kinder. Left the music biz at the end of 1980 and works as Operations Manager in the Airline Industry.
Den Pugsley - Vocalist / bassist with The Pencils (3 singles released on Next Records in 1982 / 3), Co-formed 60's covers band, The Overtures in 1990 and is performing with them to present day. www.theovertures.com / www.myspace.com/theovertures
Tony Skeggs - Vocalist / guitarist with The Pencils. Co-formed The Overtures with Den. Left to form own band The Hot Dogs in 2003. www.myspace.com/thehotdogsband
Tracy Graham - Returned to England in the 80's and manages own building firm in Hampstead, playing bass in covers band.
Andy Welsford - Drummer with The Pencils (1980 / 83), Meatloaf (1984 / 5), Romeo's Daughter (1988 / 93) and currently performing with covers band The Slaves. www.theslaves.co.uk
Steve Bye. None of us have heard from him since he left to join The Physicals in 1978. Please phone home...yer dinner's getting cold.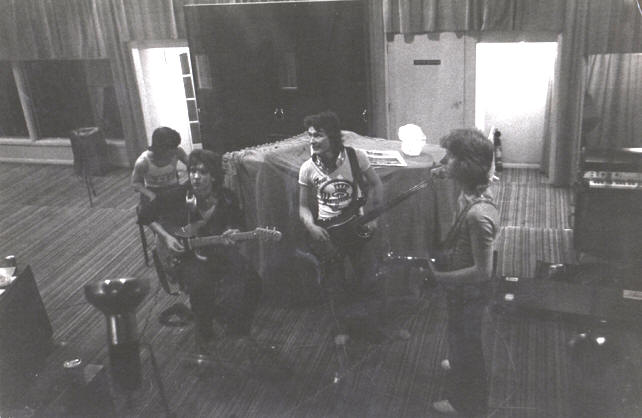 April 1977. Tony, Tracy and Den preparing to record the rhythm track. (Alex plays Chopsticks on the piano. Singers, eh?)
Thanks to Steve Mitchell for turning us onto this band!, Den Pugsley, Ingo Eitelbach & Dany Puiatti.