Edinburgh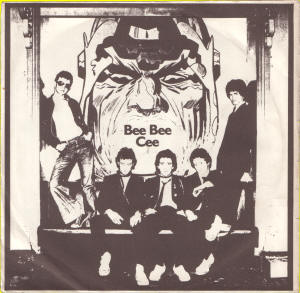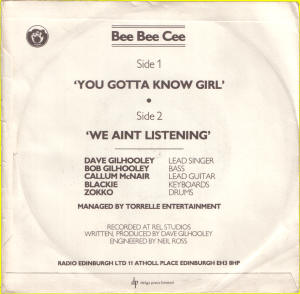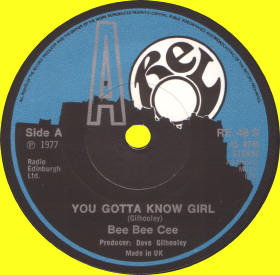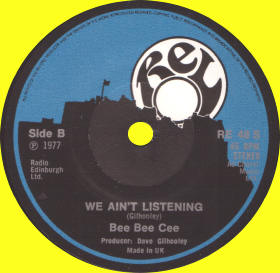 You Gotta Know Girl / We Ain't Listening
Catalogue Number - RE 48 S
Label - REL (Radio Edinburgh Ltd)
Year Of Release - 1977
Quantity Pressed - 2000
| | |
| --- | --- |
| Dave Gilhooley -Vocals | Bob Gilhooley - Bass |
| Callum McNair - Guitar | Zokko - Drums |
Hailing from the suburbs of Edinburgh, 'Bee Bee Cee' was one of the earliest Punk bands to form up in Scotland. They were ahead of most of their counterparts as they had already recorded and released their debut single by 1977.
It all started in late 1976 when the band and other like minded kids used to meet up and hang around the local record shop that was called 'Hot Licks'. This shop was situated in 'Cockburn Street' and was the place to hear all the new imports and the up and coming sounds! Also in this street was the pub 'The Wig and Pen' where the band used to play it's early gigs'. At some of the early gigs, the band and their followers would make a name for themselves and in the local press the next day, it would read "BBC causes a riot!!!". To a lot of readers who weren't aware of the band would read it as a funny headline....
Fortunate for the band, they were picked up and managed by 'Clouds Entertainment'. This company managed their own night club and were the main company for booking bands that were on tour. (In fact, the actual picture to their sleeve was taken at this club!) This meant that 'Bee Bee Cee' always had good bands to play with as a support act. In their existence, they had the pleasure to play with such bands as 'Generation X', 'The Damned', 'The Jam', 'The Jolt', 'Siouxsie & the Banshees' and top US Punkers 'The Ramones'.
The singles was pressed up in a pressing size of 2000 copies. They were distributed through out Scotland's independent chain of shops. Even though the single sold well locally it didn't really get the recognition that it truly deserved! Unfortunately for the band, hardly any copies escaped Scotland and another great single quietly died of death.
<![if !supportLineBreakNewLine]>
Sadly the band split in 1978 and all the band members went their separate ways except for Callum McNair & Dave Gilhooley who would team up two years later and form the 'Club Of Rome' and had two tracks released on the '<![endif]>Mint Sauce for the Masses' EP which was on the 'Playlist' label along with 'Twisted Nerve', ' <![if !supportLineBreakNewLine]><![endif]> Flexible Response' & '<![if !supportLineBreakNewLine]><![endif]>Fun City'.<![if !supportLineBreakNewLine]><![endif]>
<![if !supportLineBreakNewLine]>Callum has remained in the music industry and has been in numerous bands over the years such as 'The Syndicate', 'The Apples' & 'The Bathers' to name a few.<![endif]>
Thanks to Callum McNair & Gordon Windsor
©Detour Records