| | |
| --- | --- |
| Roland Gift – Tenor Sax & vocals | Nick Townend – Guitar |
| Stevie 'B' Robottom – Alto Sax, keyboards & vocals | Steve Pears – Alto Sax & vocals |
| Michael 'Fred' Reynolds – Bass | Wojciech 'Piotr' Swiderski – Drums |
Second Pressing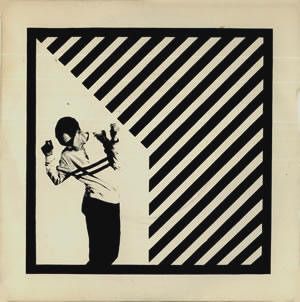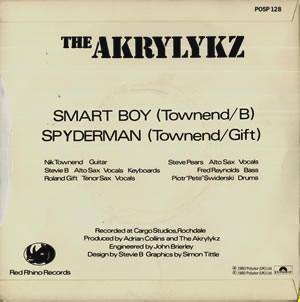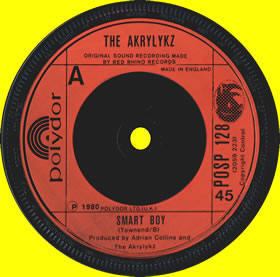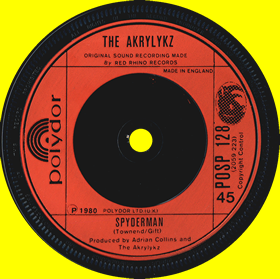 Catalogue Number - POSP 128
Label - Polydor Records
Year Of Release - 1980
The Akrylykz Interview
Who were the band members and how did you get together?
Nick Townend – Guitar
Fred Reynolds – Bass
Stevie Robottom (Steve B) – Alto Sax, keyboards & vocals
Steve Pears – Alto Sax & vocals
Roland Gift – Tenor Sax & vocals
Wojciech 'Piotr' Swiderski – Drums
All of us, except Roland, were under-graduate students at the art college in Hull. Nick, Fred & Steve Pears were studying BA Fine Art (Painting), I was studying BA Fine Art (Sculpture) and Steve B was studying Graphics.
We all talked about forming a band as soon as we started college in September 1978.
Most of these discussions took place on an evening in the back room (totally mirrored walls) in the Polar Bear Pub on Spring Bank, Hull. The pub was popular at the time with musicians, artists etc. Often, our conversation was interrupted by this young black guy, with blond hair and rainbow stripes across one side of his head. He kept telling us that he was good on the sax and that he has some connexion with Bernie Rhodes "The Clash" manager. We felt we needed more "middle" sound in the material we were writing, so we invited him to our next rehearsal. His name was Roland Gift!
How did you come up with the name The Akrylykz?
We obviously chucked a number of ideas around. The concept came from our art college background. "Acrylic" as a medium to paint with. We messed about with the letters and finally came up with the original name for the band "The Akrylyk Vyktymz". Later to be shortened to "The Akrylykz". Some of this was influenced by my Polish origin.
Hull in the late70's appeared to have few people from ethnic minorities, so how did you end up playing SKA?
I suppose it was the convergence of six young guys from different parts of the country – London, Midlands, Liverpool, Newcastle – different musical tastes and backgrounds that united itself within the sound of SKA. The thread was already starting with the likes of Specials, UB40, and other Two-Tone outfits, coupled by a heavy influence by "The Clash".
How did the band develop?
The band developed slowly to start with, as most of us were juggling college commitments and the need to make music!
What was the first song you played?
The first single "Smart Boy / Spiderman" were the mainstay songs we played.
What was the inspiration for writing your own songs and who were the main songwriters?
The band always had the central idea that we would write and perform our own songs. We were convinced that we had something to say to the public, comment on here and now issues – racism, miner's strike, juvenile justice etc. We did not want to repeat material written by other bands. The main songwriters were Townend & Gift, but we all contributed to the composition. It was not many times that I was told how to lay the drum section down, this certainly all came from me.
When did you start gigging and where did you play?
The gigging of 1979 sticks in my mind, as I turned 21 at the end of '78 and we'd been rehearsing around then with a view to launch the band in the New Year '79.
Some of the venues to start with were local in Hull, The Welly Club, Clouds @ Hull Truck Theatre, Romeos & Juliet's, and Spring Bank Community Centre.
The bigger venues came later as the band gained more recognition – The Music Machine, London, The Rock Garden, London, and numerous Mecca halls in Sheffield, Birmingham, Manchester, and Derby Assembly Rooms etc.
How did you get your first media coverage locally/nationally?
Locally there was a big fan base that produced a Punk/SKA fanzine that the band featured in regularly. This was then picked up by the local media (Hull Daily Mail, BBC Humberside)
The national media (radio) attention was mostly due to the late, great John Peel. He claimed that we had "caused a large ripple in the music pool". John Peel played our first single "Smart Boy/ Spiderman" incessantly, getting our bands name noticed across the country before we even played the city. Punters in Glasgow were screaming the single title before we even came on stage!
Did you get the opportunity to record any demo's before coming to the attention of the record companies?
Yeh, we used a small rehearsal studio on Mayfield street, Spring Bank, Hull and it had a small four track recording facility which we used to record material and produce demo tapes.
In the early days, unbeknown to the band, a sound engineer recorded live sessions from our gigs. So, maybe some bootleg tapes are floating around!
When did you get your first record company interest and how did you become signed to the Red Rhino subsidiary of Polydor Records?
If my memory serves me right, the band had been gigging locally for about a year. Towards the end of '79 two guys came to our dressing room (broom cupboard) in the Welly Club and said they were from Red Rhino Records, based in York, and would be interested in recording our first single with them. They would release it on their independent lable, which they did (see next point).
The Polydor conexsion comes later. Having done the above, the band were now spreading our wings and playing far and wide. At one of our gigs, The Music Machine, London, supporting Dexy's Midnight Runners, we were spotted by a Polydor A&R man Chris Parry. Polydor bought Red Rhino Records so they could have our band on their lable!
Many of the bands who followed on from the Punk explosion had a very independent attitude of DIY. The Specials, The Selecter appeared to be self managed co-operatives. Did you have a manager? How much control did you have over what you did?
The manager question has been a sore point with me, as it was one of the contributing factors with the band splitting up. I will return to this episode. Initially, we tried to run ourselves as you said in the question as a co-operative. For all six of the band members the whole music industry was a new thing. As we became more popular, the business side of things began to slip, so we jumped at the offer made by the guy who ran Hull Truck Theatre then, Barry Nettleton and his partner tried to steer us in a forward direction. I am not sure why or how we parted company??
Six months before the band split up, an ambitious guy called Simon, persuaded us that he could secure a third single deal with Polydor and a healthy advance. Simon organised studio time in Bath. We recorded the material and were to return to the studio the next day to mix down the master tapes. Late that night, one of our roadies, Shaun Pepper, spotted Simon hightailing from the hotel with his briefcase full of cash and the master tapes under his arm! The third single was never released.
Months after the band split up, we found out that Simon had been arrested, prosecuted and was doing porridge at Her Majesty's Pleasure somewhere!!
When and where did you record your first single?
We recorded Smart Boy/Spiderman at Cargo Studios, Rochdale, in late '79.
Was there any debate about which songs to record and release? Most of the Two Tone bands initially released cover versions of previous hit songs, were you tempted to do the same or was it a conscious decision to put out you own songs?
The biggest discussion in the band was deciding which song sounded the best and would it go well as a single. In the early days we did not argue much and there did not seem to be any professional rivalry. We as a band were confident that our own material would stand up in the open market and we did not need or want to release cover versions.
How did your first single fair, did it get air play?
I think it did quite well, low 30's in the hit parade. The biggest air-play was with John Peel and Mike Reed.
When did the band move to London was it through choice or necessity?
We did not move to London, remaining faithful to Hull.
The band played quite a few benefits for Rock Against Racism, how did that come about?
The band aligned themselves with the local socialist party. This allowed us to support the ever-increasing issues of racism and the right to work. The band agreed that our best activity would be to perform benefit gigs in support of the above issues. All the gigs were performed at the Spring Bank Community Centre, Wellington Lane, Hull, during June, July & August 1979. A book has been published " Hull Rock Against Racism Posters 1979 – 1982 " ISBN978-0-9555535-0-9.
The band supported The Clash at Bridlington Spa, how did that come about? How did you get along with them, any problems with Bernie Rhodes?
Supporting The Clash at Brid was certainly one of the highlights of our career. It certainly carried positive benefits, other gigs etc. The Clash themselves were fine, friendly and approachable. The post gig meeting remains a bit of a blur now. Topper Headon was complimentary about my drumming. Joe Strummer was positive about our performance. Bernie Rhodes was OK, as Roland Gift knew him from before, and maybe that contact clinched our deal to support them in Brid. The roadies on the other hand, were pretty heavy and would not let me have a go on Topper's kit. I bumped into them in London a few months later, following my hand accident. They confirmed that they had heard of my accident on The Clash Tour of USA. I just couldn't believe it.
You were contemporise with the Two-Tone bands, touring with The Beat. Who did you meet, any stories to tell?
Around mid – 1980 there was a buzz going around that a new indie label had come out in the Midlands – Two-Tone. Roland Gift, originally from Birmingham, went down to visit family and friends. There he met John Mostyn who managed The Specials for a short period and then took over managing the Beat. It was through this contact that we went on doing loads of work with The Beat. One of the biggest was the Scottish tour. We kicked off in Glasgow, Mecca Dance Hall, Sockihall Street. Next was Stirling, then Dunfermline, Dundee and finally in Edinburgh for the last gig of the tour. This one certainly sticks in my mind. We came back on with The Beat for their encore, Tears of a Clown & Mirror in the Bathroom. The crowd went wild!! Another memorable gig was in Birmingham, playing with The Beat & The Selecter. The gig was brilliant as it was a finale of another tour. Following the gig we were attacked by local skinheads who were out causing trouble, picking on innocent by-standers! There are many more stories of gigging with Two-Tone outfits that I will try to come back to in another interview. ABC supported The Akrylykz at Sheffield Mecca before ABC made it big! The Akrylykz supported Dexy's Midnight Runners at the Music Machine in London. It was at this gig we were spotted by the Polydor scout and then the serious negotiations started around our £250,000 contract with Polydor. The Akrylykz supported The Specials several time. Some of these gigs are mentioned in an autobiography by Horace Panter "Ska'd for Life" ISBN978-0-330-44073-8.
The band were interviewed and featured in "Sounds", did you get any coverage in other music magazines?
NME, Smash Hits and the local Hull Daily Mail!
For the second single you appear on Polydor. Did you get to meet any of the other bands signed to the label, The Jam, The Chords etc?
Our A&R at Polydor, Dennis Munday, was the same one for The Jam. His office walls were covered with Jam gold and platinum discs! Unfortunately, we never bumped into any of the other Polydor artists when we were visiting Dennis's office.
For the second single did you use the same studio, engineer, producer? If not, were there any reasons behind the changes?
Our second single (a) J.D. – Juvenile Delinquent and (b) Ska'd for Life, was recorded at Chalk Farm Studios, London. The engineer was Vic Keary and producer Lol Gellor. The reason why we decided on the studio and engineer/producer was that their reputation went before them. Chalk Farm Studios was owned by Vic Keary, and his legacy with the Trojan label and their artists was well known by us The Akrylykz wanted to encapsulate a similar sound to the Trojan genre.
I understand you became session musicians for Desmond Dekker, when he revived his career and signed to the Stiff label. How did that come about, what did you record with him?
The Beat were initially approached by the Stiff label to work with Desmond Dekker. They were just about to embark on recording their first album and promotional tour. The Beat suggested to Stiff that they contact us as a talented, competent outfit to do the job. We ended up doing the recording as session musicians; this would not put us in direct conflict with Polydor Records.
We recorded the following with Desmond Dekker :- The Israelites, It Mek, Many Rivers to Cross, Work Out & Pickney Gal. This was released by Stiff on Desmond's album "Black & Dekker" in 1981.
A third single was recorded and I've heard an album's worth of Demo's, what happened to further releases?
A combination of a break-up with our then manager (described in a previous question), a break-up with Polydor Records, which indirectly was influenced by then Conservative Government's economic policy. So, with this combination The Akrylykz finally split up.
What would you say was your most memorable moment?
Apart from all the live gigs played as The Akrylykz, one of the most memorable moments was when John Bradbury AKA "Brad", drummer with The Specials put me in touch with Pearl Drums, who then offered me a promotional kit!
What was your best gig?
The last gig of the Scottish tour with The Beat in Edinburgh. The crowd went wild when we joined The Beat on a joint encore playing "Tears of a Clown"!!
Interview done by Phil Culshaw & Wojciech Swiderski
July 2009

©Detour Records