The Vacants
Guy Greenhough (aka Vincent Sharp) - Vocals
Jeff Jansen (aka Dan Druff) - Bass
Tim Ryan (aka Tim Nervous) - Guitar
Terry Clemson - Guitar
Martin Chambers - Drums
Spanish Pressing
(On the above sleeve features Guy Greenhough, Jeff Jansen, Tim Ryan & Martin Chambers)
French Pressing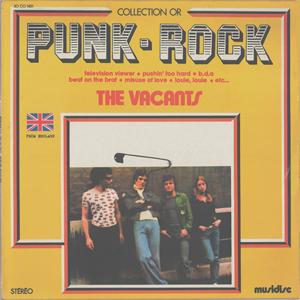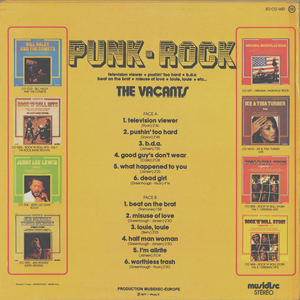 (On the above sleeve features Guy Greenhough, Jeff Jansen, Tim Ryan & Sandie Gill )
French Gatefold Sleeve Pressing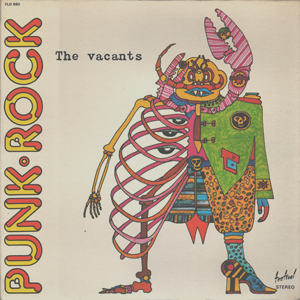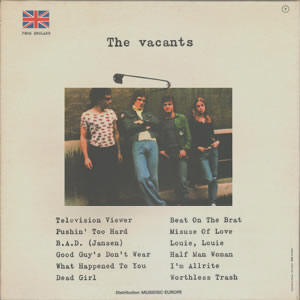 (On the above sleeve features Guy Greenhough, Jeff Jansen, Tim Ryan & Sandie Gill )
Italian Pressing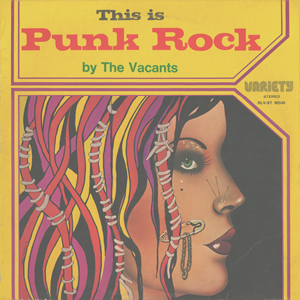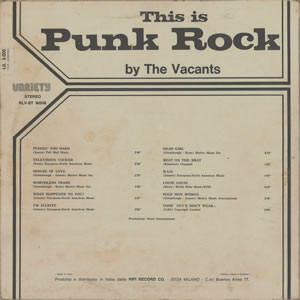 Australian Pressing
(On the above sleeve features Guy Greenhough, Jeff Jansen, Tim Ryan & Martin Chambers)
Side 1

Pushin' too hard / Television viewer / Misuse of love / Worthless trash / What happened to you? / I'm allrite

Dead girl / Beat on the brat / B.A.D. / Louie louie / Half man woman / Good guy's don't wear
Above is an original German Cassette release that came out on the 'Teldec' label in 1977.
(On the above sleeve features Guy Greenhough, Jeff Jansen, Tim Ryan & Beatt Junior behind the drums )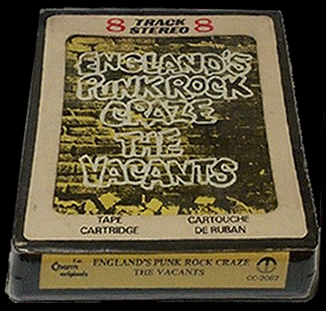 Above is an original Canadian 8-track cartridge on the 'Charm Originals" label with a catalogue number of CC-2062. How Bizarre is this?
The Vacants were formed when vocalist Vincent Sharp and guitarist Dan Druff newly up in town from Southend-On-Sea recruited guitarist Tim nervous from an ad they placed at 'Rock-On' in Soho market early 1976.
For the next year they rehearsed in the Nervous attic in Bromley, with odd drummers and bass players guesting. Early in 1977 they recorded a demo in a tooting 4 track studio that Vincent Sharp played to 'RCA' workmate Eddie Bourne. Eddie also moonlighted for 'Beatt International', a company who produced exploitation LPs for the overseas market.
'Beatt' wanted a Punk Rock LP with 4 cover versions of Pistols / Clash / Jam and Stranglers songs.
The band rejected Beatts suggestion instead picking the 60s garage songs they already played.
Joining the Vacants was Martin Chambers on drums (who played on the demo) and Terry Clemson from the Downliners Sect who was drafted in by Eddie Bourne. This meant he could swap guitar and bass with Dan Druff.
The albums 12 tracks were put down in 7 hours, with the vocal overdubs done in one playback. The session ended in arguments as no time was given for guitar overdubs.
Soon after 'Beatt' proposed that the Vacants record a 2nd LP, but unfortunately this never came to pass as they rejected the bands demands of producing it themselves and getting paid more. The 2nd LP gig went to FU2 (Downliners Sect) whose LP was also called Punk Rock in some territories.
Via 'Beatt', The Vacants acquired a would be manager and there was talk of 'Chrysalis' or 'Transatlantic' putting out "Television Viewer" as a single.
What finally put the nail in the coffin was the band going to studios owned by 'Tony Hatch' (of 'New Faces' fame) and demo a punk version of 'Sweets for my sweet'.
©Detour Records