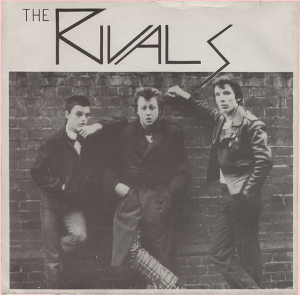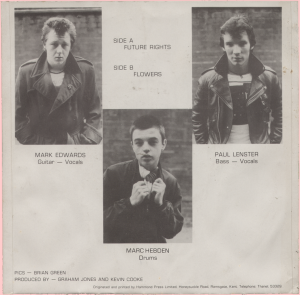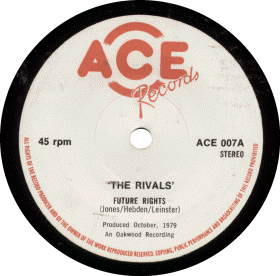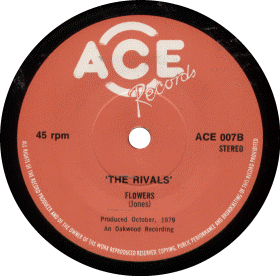 Catalogue Number - ACE 007
Label - Ace Records
Year Of Release - 1979
Quantity Pressed - 1000 (Confirmed)
Line Up #1 as per first single

Mark Edwards (aka Mark Jones) - Guitar & Vocals
Paul Leinster - Bass & Vocals
Marc Hebden - Drums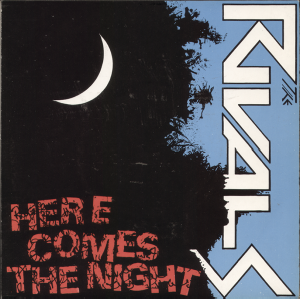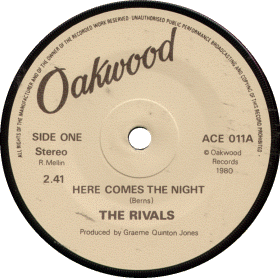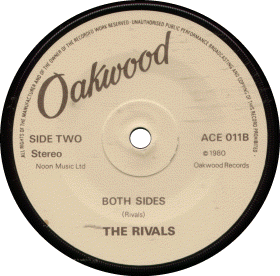 Here Comes The Night / Both Sides
Catalogue Number - ACE 011
Label - Oakwood Records
Year Of Release - 1980
Quantity Pressed - ?????

Line Up #2 as per second single
Mark Edwards (aka Mark Jones) - Guitar & Vocals
Paul Leinster - Bass & Vocals
Paul Daley - Drums
Line Up #3 until band split
Mark Edwards (aka Mark Jones) - Guitar & Vocals
Paul Leinster - Bass & Vocals

Ralph Littlejohn (aka Stan Gretsch)

- Drums
Rivals Biography
It all began fairly innocently in the mid 1970's. Two young lads would spend their time being fairly obnoxious as 14 year olds can. Then they began to discover the joys of music and in particular David Bowie and Marc Bolan. Soon it got a little silly as Paul and Mark would wait for Mark's mum to go to bingo and out would come the pretend guitars and they would jump around the living room to the likes of Diamond Dogs and 20th Century Boy.
Later on that year Mark took it all one stage further with the purchase of his first Les Paul copy. Paul wasn't so sure until one night they both happened to come across a little known combo called the Sex Pistols strutting their stuff on 'So it Goes'. Paul's mum then duly obliged with a Beatles look alike bass guitar for his Christmas present and after a short call that same morning in1976, the first ever Rivals rehearsal took place round Mark's house on Boxing day.
Gigging then took on a more important role as the lads took in early performances by the Stranglers at Canterbury Odeon and more importantly the Buzzcocks at the Lyceum ballroom ably supported by the Slits and the Gang of Four. Then the Clash followed with Jimmy Pursey singing White Riot and it was time to find a drummer.
Somehow a skinny little Herbert called Marc bribed the lads by offering a better place for rehearsal as he lived in a bigger house. A few months later and it was down to the Eagle pub Ramsgate and the Rivals were on the Road.
After a few more gigs it was time to put all their limited finances into one pot and the lads came up with enough readies to pay for their first visit to the studio and produced the dark eerie 'Future Rights' with the sing along crowd favourite 'Flowers on the B side. Paul managed to rope in his present girlfriend's mum to get a cover printed although this didn't extend to gluing them together. It wasn't until band and mates alike had exhausted the Pritt Sticks in the early hours of a morning that the debut was ready for distribution. There then followed trips to the local record stores and a the usual bunking of the Ramsgate to Victoria train to ensure copies were delivered to Beggars Banquet, Rough Trade and other outlets.
More gigs followed until the old internal differences led to a change of drummer. Paul Daley joined as he was known to Paul being at the same school. They began rehearsing in a small pub in Herne Bay and began to collect a motley crowd of on lookers, a rough mixture of punks and skinheads. There began to form quite a major following and at the helm was a renowned leader of a Millwall mob who went by the name of Roy. He later went to form his own band and named it after his mate, Mickey French's shop, the Last Resort. They later were in the forefront of the Oi scene.
A cracking couple of sessions in a local studio followed but despite their best efforts and a free copy of the Ruts new album from Jumbo at Virgin, no record deal could be found. However, the owner of the studio remained impressed, especially with the lads only cover version to date, a punked up rendition of 'Here comes the Night' that Mark had suggested after hearing it on a Bowie album (being stupid enough not to realise it wasn't even Bowie's song). A remake followed with Mark on vocals this time and it was then that things started to take off.
The first the lads really knew about it was that as they turned up for a follow up session, they heard it playing in the local record store. Of course the boys were thinking how nice it was of the owner to be playing their song when suddenly up pops Paul Burnett's voice who starts raving about it. More plays from Mike Read followed as it was on the radio one play list and then it was rumoured that the lad's hero was to play it on his show that evening. Sure enough in true John Peel fashion, he saves it until 11.55pm when he plays the original version by Them (first time the lads had heard it!) and announces that the next version will blow this one away and sure enough it does.
So people all over the country are trying to buy the record and a guaranteed top thirty hit was on the cards apart from one problem…only a few thousand were made and distribution is patchy. Then comes the crowning moment. The lads, who by now were looked after by Terry Noon in London, are informed by him at least one major label has agreed to take over the distribution only for the local record label to turn them down for reasons that until this day the boys don't understand. Dreams shattered and that was that really. A record of the week in Record Mirror continued the interest nationally but the moment was gone and the single remained unobtainable. The lad's only chance of stardom was gone.
The story didn't end there though. Paul Daley departed due to musical differences with Mark's words 'You'll never make it with that attitude' ringing in his ears. (Paul later went on to form Leftfield and sold millions!) It was then that the Rivals acquired their third and final drummer in the form of Stan Gretsch. Their final sessions and gigs with Stan, musically, were their most successful ever. Another nearly moment saw the Clash trying to find them and offer a support slot on tour but the boys were otherwise engaged. A gig in Hastings saw Huggy, whose band the Teenbeats were a part of the revived mod movement, take a real liking for the band and he joined the band on stage for a gig in Gravesend. There was a chance of a new direction but by now the band, in true punk spirit was running its course,
Stan decided to accompany a 'mate' who, on a joyride, managed to send him through the windscreen of the BMW killing him instantly. At the same time Mark decided to move on and join pub popsters 'Naughty Thoughts' and that was that. In the true spirit of the 1970's it was really over before it had began!
Mark went onto play with Roi in the Last Resort, form Heavy Metal Outlaws and later joined the Anti Nowhere League. Paul drifted into 'Decade of Pleasure' and became mates with the Theatre of Hate spin off band 'Under Two Flags' and finished his career at the Marquee supporting them.
However, they will always remember that heady few weeks of fame and if only………..
Paul Leinster

2004
©Detour Records