PUNCTURE

Islington, London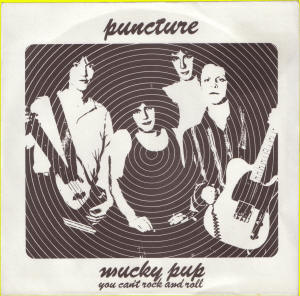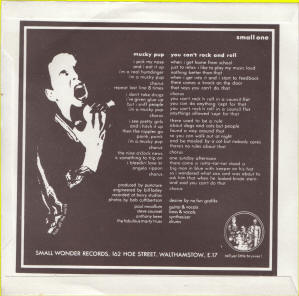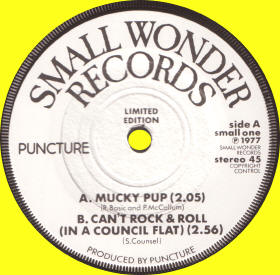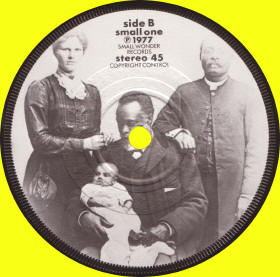 Mucky Pup / Can't Rock & Roll (In A Council Flat)
Catalogue Number - Small One
Label - Small Wonder Records
Year Of Release - 1977
| | |
| --- | --- |
| PAUL McCALLUM - GUITAR / VOCALS | STEVE COUNSEL - BASS / VOCALS |
| ANTHONY KEEN - SYNTHESIZER | MARTY TRUSS - DRUMS |
From as early as 76 ...we weren't really all that into the fashion thing, most of the people who you saw dressed up at the beginning of Punk were a bunch of Chelsea posers like Malcolm Mclaren, and most of them even the musicians were a couple years older then us. When the Pistols records and the Damned came out, New Rose made a BIG impact on us all, I think Puncture liked the Damned because they were tongue in cheek about the whole thing, that appealed to us because to us the whole thing was just a big laugh anyway. As I remember it, it really it wasn't until it broke outside of London and the kids in the sticks started getting into it in 77 that it began to be an "authentic" movement, before that what you saw was just hype, don't believe me? Remember the Great Rock n Roll Swindle, confession cleanses the soul my friend.
Anyway having said that check out those loon pants!! You'll see the original Puncture line up, which includes myself on Bass sporting a lovely Brian Jones basin doo, milkman jacket and loons, Paul McCallum dressed like a Nazi youth (he was by far the most fashion conscious member of the band) on a Woolworths guitar, Jack Stafford (who you will be interested to know later joined "X-Ray Spex" and became Jak Airport) Sporting a fake Les Paul dodgy cowboy hat with a lovely pair of loons, incidentally I remember we were all sitting in the pub with him before the first X-RAY SPEX gig at the Roxy when his manager came in and sent him home to change because he showed up in yep ... looons!! It doesn't sound that unreasonable now but at the time we all thought it was a total sell out, he had a hard time living that one down, we laughed about almost everything in those days, God bless him. And last but by no means least the Fabulous Marty Truss on Drums..
Kenny Alton was Jacks immediate replacement on guitar but he left and joined the Fingerprintz as their bass player! Then Anthony joined the band, he went to the same school with Paul and myself at Islington Green comprehensive.

What was Puncture all about anyway? Really we were a bunch of cockney kids who wanted to be like our cockney heroes the Small Faces, if we'd still been together when the Mod thing happened a few years later we would have fit in nicely, by then I was in 'Miles Over Matter'. Paul and Anthony then went on to form a band called the "Dead Sea Sound". More recently, Anthony can be found in a band called "The Elementals".

After that I joined "The Duelists" with "Slaughter and the Dogs" Mick Rossi and "The Professionals" Ray McVie. I then left the Duelists to form "Twenty Flight Rockers" with "Generation-X" drummer 'Mark Laff', we got the name from my 'Eddie Cochran' LP in my flat in Kentish Town, then we found 'Gary Twin' and Ian what's 'is name.
After that I replaced Glen Matlock in the "The London Cowboys" who were introduced to me through Mark Laff, we played a bunch of European dates with them when they needed a bass player and drummer, I ended up staying with the Cowboys. We then came to Los Angeles in '88 and landed an ill fated MCA deal.
After the Cowboys split I stuck around and played the LA club scene which was still band focused unlike the London scene which had gone House. So I formed a retro-sixties style psychedelic blues band called "The HomeWreckers", we were doing a Yardbirds kinda thing, we landed a deal with New York based 'Viceroy Records' and released an Album called "Out Of The Shadows" which was produced by Savoy Brown's Kim Simmons. The main problem was we were in Los Angeles and the label was in New York so although we got great reviews it didn't really do what we had hoped, you can see "The HomeWreckers" backing up 'Shane McGowen' on his TV show, "A drink with Shane McGowen"
I recently saw a small US label had printed up some 7"vinyl copies of Mucky Pup and Can't Rock'nRoll In A Council Flat http://www.almostreadyrecords.com/
Cheers!
STEVE COUNSEL

PAUL McCALLUM

ANTHONY KEEN

MARTY TRUSS
Thanks to "Steve Counsel" for the above information and photo.
©Detour Records