Pete Newnham

London

("T.H.E.")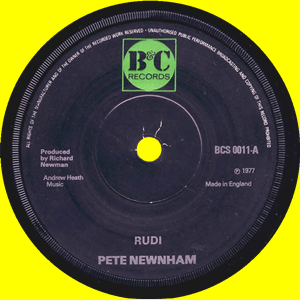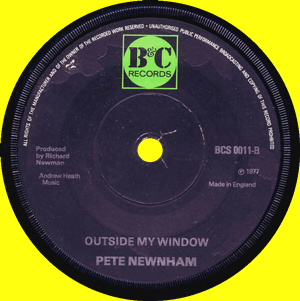 Rudi / Outside My Window
Catalogue Number - BCS 0011
Label - B&C Records
Year Of Release - 1977
Quantity Pressed - 1000
(Due to bad distribution, it is rumoured that less than 100 copies are in existence?)
Mike Marchant
Paul Hammond
Pete Newnham
Pete Newnham

Paul Hammond
Mike Marchant

"T.H.E"

(Chiswick Park, mid 1977 - Photo by Tina Carr)
Having recently left 'Window', a Pop / Rock band that were signed to 'Riva' Records in the Summer of 1977. Pete Newnham set about forming another band. His previous bands had included a stint with 'Steve Harley's Cockney Rebel'. This time he was influenced what was happening around him and, together with Mike formed "T.H.E", a three piece Punk outfit that consisted of Pete on guitar and vocals, Mike Marchant on bass who had previously played with 'The Third Ear Band' and Paul Hammond on drums who had previously played in 'Atomic Rooster'.
The band went onto release one single on the "B&C" label in 1977 but for reasons unknown, the label released it just under "Pete Newnham" and not the bands name "T.H.E'. Sadly, without any distribution the single faired badly and sank with out any trace. Rumour has it that only 100 copies exist. This could be correct as it rarely surfaces nowadays!
The A-Side track was inspired by the 'Ken Russell' movie "Valentino" while the flip side was from his old band "Window" which he had written a few years earlier.
Sadly, this line-up only lasted just over a year before turning into 'Tiger Ashby' who went onto play the famous 'Roxy Club' in 1978 alongside 'Sinex' & 'The Passengers'.
After the demise of 'Tiger Ashby', 'Transformer' were formed and they carried on to 1985.
Above are a set of three original stickers from 1977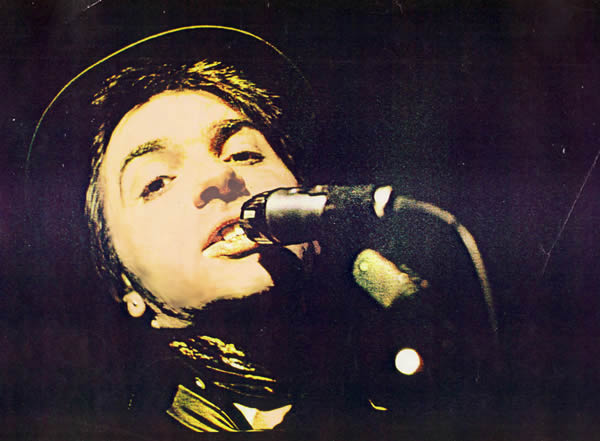 Pete Newnham live at the "Roxy" with his band "Tiger Ashby" on Saturday 22nd April 1978.
Thanks to Pete Newnham, Bradders & Mario Panciera's excellent "45 Revolutions" Book
©Detour Records