MISSPENT YOUTH

BIRMINGHAM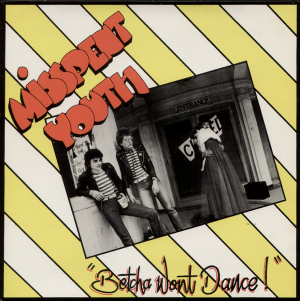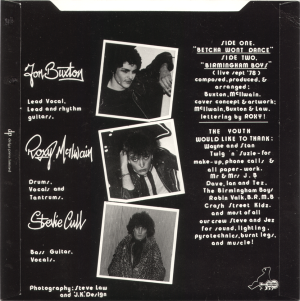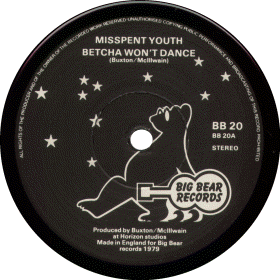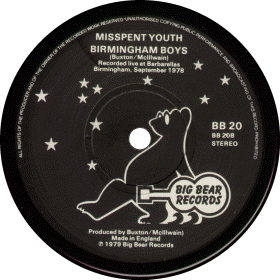 Betcha Won't Dance / Birmingham Boys
Catalogue Number - BB 20
Label - Big Bear Records
Year Of Release - 19879
Quantity Pressed - 300
Jon Buxton

Tony `Roxy` McIllwain

Peter Chapman
MISSPENT YOUTH - BIOGRAPHY
If you were to travel through England's second city Birmingham between 1976 - 1980, in amongst the industrial sprawl you could not have failed to notice the name `Misspent Youth` graffitied throughout. This was not just another rebellious cry of teenage angst, rather the name of one of the city's foremost New Wave bands, and the epidemic proportion of graffiti a sign of their popularity (in fact it became so wide spread that a disclaimer letter had to be sent to the main local paper `The Evening Mail` in order to prevent reprisals from the authorities).
The band formed in 1976 and advertised itself as a Punk rock outfit (the term being lifted from their love of such US bands as Iggy Pop, New York Dolls and England's own version Silverhead, rather than the then unheard of UK version).
Their first line up consisted of Jon Buxton - Vocals/guitar, Ian Hewitt - Bass and Terry Boazman - Drums and their first appearance as Misspent Youth was at `The Golden Eagle` Hill St., Birmingham early 1976 supporting Heavy metal supremos `Supernova` (whose guitarist Keith Rimmell and Drummer Bob Peach went on to become members of `The Killjoys`). Their set consisted of self penned songs such as `The Smoker`, `Machine Gun` and `Midland Red Bus`. From here the band added vocalist Dave Banks and began to gig all over the city including a residency at `The Barrel Organ` and their first of many appearances at `Rebbecas` and `Barbarellas` the clubs belonging to the Feutrall Family.
It was soon after this that the band went into disarray, first to go was drummer Terry he was replaced by another old school mate Tony McIllwain. It was under this line up that they recorded their first demos at Nest studios in Birmingham. The master tape of the three songs `School Report`, `Misspent Youth` and `Suzies Shinin` either still resides in the EMI vaults (to were it was sent) or (most likely) ended up in the bin. Next to `bite the dust` was singer Dave (known to like a drink or two) he took to offering out most of the other local bands/promoters/landlords single handily, but when he took to fisticuffs with his own band the days were obviously numbered. Next to fall was bass man Iain, after failing to turn up on a night when the band were auditioning singers (due to pressure from the girlfriend) it was sensed his heart wasn't in it.
Interestingly from here at the lowest ebb came the start of the golden period for Misspent Youth. It was now that Jon and Tony decided on a new strategy. Having faced the rigors of Grammar school bullying together and survived the rehearsals with Dave (and avoided death from all his enemies as well) they now thought they were invincible and could shock and insult `the whole world` safely. They were truly angry young men and the songs they now penned reflected that anger. From `Good-bye Baby Doll Blue` (Rape) through to `Powder Room Obsession` (Lesbianism) to `Nightclub` (Local Promoters) to `Plaything` (Schoolgirls) every subject that might upset or cause controversy was covered. If the Dolls used make up to look pretty and Kiss to look theatrical, they would use it to unnerve/to disturb in conjunction with hard New Wave music that would confuse and upset some, but please many.
They now recruited on Bass guitar and (shared) Vocals Stevie Cull, who would add to the affray with his camp speak and leopard skin cat suit. From here the band set about intensive gigging, with their new introductions "All the way from New York" or the inflammatory "You might hate us but you wont forget us". They recorded three new songs at Outlaw Studios, Birmingham, "Nightclub", "Its A Raid" and "Birmingham Boys", though they were only recorded on a four track machine the energy is their for all to hear. BRMB the local radio station started plugging the songs regularly and even recorded a half hour interview with the band. They then went into Horizon Studios, Coventry and recorded their most commercial song to date "Betcha Wont Dance" on 16 track.
Often Seen in the crowds at Misspent Youth gigs Kevin Rowlands (Dexys Midnight Runners), Martin Degville (he of Sigue Sigue Sputnik), TV Eye (Duran Duran), even Boy George - interesting that these all later became well known for outrage or use of make up. Spurious suggestions some might say however give a listen to "Betcha Wont Dance" and Duran Durans later released "Planet Earth" .......Dah Dah Dah
Having recorded "Betcha Wont Dance" the band set about trying to get a single release they approached Big Bear Records run by local entrepreneur Jim Simpson. After assigning it a catalogue number BB 20 the wheels went into motion for its release, however Big Bear kept on putting back the release date and eventually after heated exchanges Big Jim retorted "take a walk around the block and get rid of some of that anger" the band obliged drove straight down to the pressing plant in Dagenham and after spending the night (5 people) in a Beetle promptly removed 950 copies of the aforesaid single (the other 50 having already winged their way to Big Jim) from the warehouse. According to Jon another 100 were sold directly through Birmingham's Virgin Records & Inferno's Vandisc service or direct to the concert goers. 650 copies were dumped in the local tip when Jon came to move flat leaving the other 200 still in boxes.
Somewhere along the line the gigs started to get out of control. There was the private Barbarellas party that ended up with the audience of Skinheads rushing the stage after the band had bad mouthed Sid Vicious. The band left the stage to the DJ and during the middle of one of the audiences favourite tunes the band came back on in full throw with "School Report" needless to say, if before there was a skirmish now it was a full blown riot. In fact if it wasn't for the 6ft stage and two 6ft 4" roadies Steve and Jem intervening and then the bouncers there could have been some serious breakage's and I don't mean equipment. I don't think the host (Martin Degville) was too impressed. Then there was the Gig in the pose (also Barbarellas) where after introducing "Plaything" for all the underage girls in the club, some of the men decided this was `a comment too far` and coupled with the wall of spit that usually accompanied bands at this time came pint glasses and they weren't plastic in those days. It was after a pint glass shattered across his arm that Jon and the band realized they probably weren't invincible after all and maybe things were getting a little out of hand.
Their live high spot came in the shape of a Friday night headline (saved only for the top bands) in the Spectrum (Barbarellas) when they played to upward of 1500 people. But it all got too much for Stevie who left the band early 1979 to form his own band, sad to say he never did by 1985 depressed he committed suicide. The lasting memory however was more pleasant. He turned up in 1980 at the Barrel Organ unexpected, by this time the band had composed "Cry Tonight" a ballad loosely based on his life, the band recall to seeing the joy in his face as he entered the dressing room after the gig. The song was the show stopper that night and the crowd welcomed him with several free drinks.
His replacement had come in the form of Peter Chapman a man of letters (bachelor of science etc.) but interestingly possessing the same hair style and command of camp that Stevie had so that many people just thought Stevie had purchased a new guitar.
After a break and many new songs they came back to live work with a Halloween gig at Bartley Green School for girls. This however was not without controversy, on finding out that `The Youth` were playing, the local Grammar school for Boys (which interestingly was the very same school Jon and Tony attended) obviously fearing they might just divert some of the girls attention away them, tried to ban the band in favour of a Disco. To combat this Jon and Tony gathered the names of the ringleaders and using their old boy routine went back to the school and let it be known that they were marked men should the gig not go ahead, needless to say no more objections were to be heard. The gig itself was memorable for its mock stage fight between members with copious amounts of blood spat over the audience (well it was Halloween) which elicited unbelievable screams from the audience. However it is fair to say that the shock factor was now becoming more theatrical i.e. Alice Cooper than their original anger. There were still dangerous moments though, like the time the band played `The Lafayette`, Wolverhampton. At that time a bikers stronghold. The original booking was to have been `Girlschool` when they couldn't make it the agency filled the gap with `The Youth`. Just to set things off on the wrong foot the band came on stage in pitch darkness and announced "tonight your expecting to see Girlschool , they couldn't make it so you've got the next best thing, us!" at this point the lights came on to the band not just made up, but caked in the stuff, not surprisingly a club full of sweaty bikers were more than disappointed and it wasn't long before things got out of hand.
The bands fanbase had built up from around the Bartley Green area of Birmingham and it was from Steve`s (Roadie/Sound engineer) flat where every Friday was party night that the core of the bands friends and followers (50 upwards most nights) would gather. Also stemming from those roots came bands like "The Sussed" who released a collectable single on shoestring called "I Like You".
The bands final high point came when Twig -Tony's Girlfriend stirred up a petition that she sent to the BBC with a thousand signatures demanding an appearance on their knew alternative music show `Look Hear`. The band appeared on the show in December 1979 and it was shown in January 1980 it was introduced by Toyah Wilcox and the band played support to `The Specials`. They performed live two new songs "Breakdown" and "Blackmail". Off air they performed "Betcha Wont Dance".
They followed the program with more gigs and a final studio session back at Outlaw studios where they recorded 6 songs "School Report, Nervous, Cry Tonight, Blue Eyes, Secret Places, New Life". This was the first time they really started to approach London record labels and look for a major deal, but their was a certain irony in the fact that now people where looking for another Duran Duran, or Dexys. Misspent Youth had been there before them yet it seemed that nobody in the Capitol was aware that anything had taken place.
By the end of 1980 the musical differences were starting to rear their ugly heads Jon wanted to go more Pop, Tony more Metal. Jon went on to front more bands `The Jet Set` (with Kev Law of The Sussed) and `The Broadway Rebels` to name just two, in 1984 he setup and started to run a Recording Studio first `The Attic` then `Flick International` where he worked with such bands as The Sweet, Felt, Napalm Death and Mighty Mighty only to retire from the music business in 1986 aged 26. Tony went on to forge a career working with the heavy rock band `Steel` and then `The Boy` obtaining a publishing deal with Warner Bros. and writing hits for Debbie Harry, Jane Weidlin, Tevin Campbell and moving to Los Angeles where he still lives today.
Stevie Cull

Tony `Roxy` McIllwain

Jon Buxton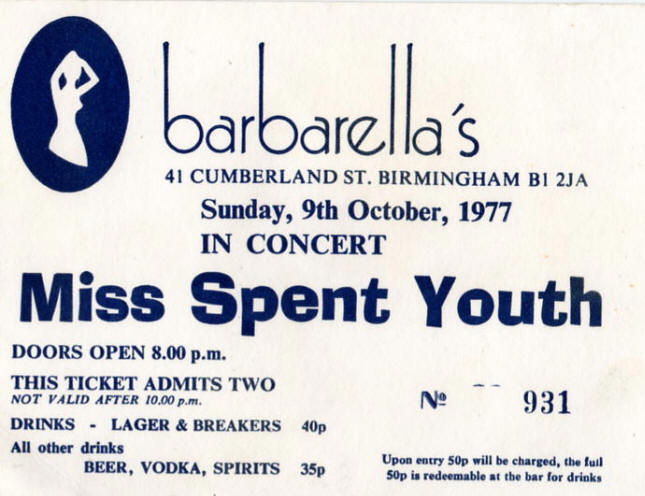 Above is an original ticket for the legendary "Barbarella's" from Sunday 9th October 1977.

Thanks to Jon Buxton and Paul Florence
©Detour Records