SPACEWARD RECORDING STUDIO
19, Victoria Street, Cambridge, CB1 1JP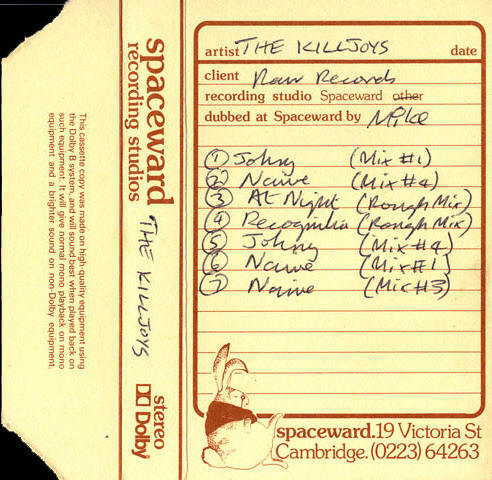 Above is the actual tape insert from 'Spaceward' Recording Studio from the day that 'The Killjoys' recorded their legendary debut release! The majority of the band were given cassette listening copies from the day and this was 'Lee Burton's own copy.
On the actual day of recording, four different mixes were made of 'Johnny Won't Get To Heaven' and 'Naive'. The best versions were included on the above tape so the band could decide what versions they preferred.
As you can see, two different mixes of 'Johnny Won't Get To Heaven' and three different mixes of 'Naive' made it to the listening cassette copy. Plus, they also recorded 'Recognition' and 'At Night.
At Night ended up on the compilation album 'Raw Deal'.
Thanks to 'David Tucker'
©Detour Records