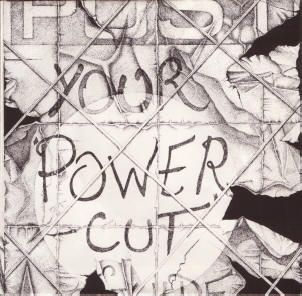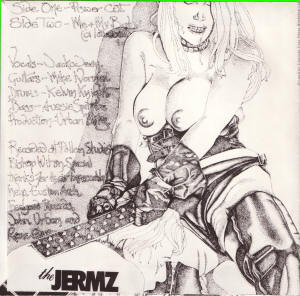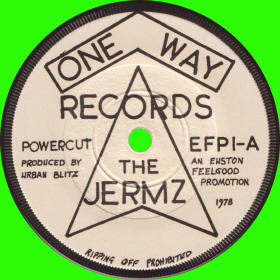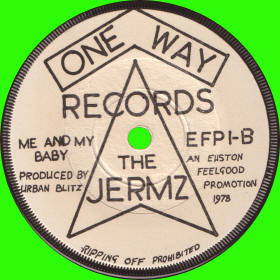 Power Cut / Me And My Baby
Catalogue Number - EFP1
Label - One Way Records
Year Of Release - 1978
Quantity Pressed - 1000 (Confirmed)
| | |
| --- | --- |
| NICK JACKSON (aka JACKO JERM) - VOCALS | KELVIN KNIGHT - DRUMS |
| *AUSSIE SPITFIRE - BASS | MIKE GIBSON (aka MIKE NORMAL) - GUITARS |
*Charlie Francis replaced Aussie Spitfire after the record had been recorded & released.
One of the best examples of early British Punk Rock! In fact, this release (both sides) are in my top ten BEST Punk records ever to be released by an independent band! Both sides are full on and in your face shouters....
Hailing from York, this 4-Piece along with their manager 'Hugh Bernays' released this outstanding record on the their label 'One Way' Records after recording it at their local studio 'Pollen'. The actual studio was also responsible for the two classic releases by another local band "Sema 4" as well as 'Xpress'. The actual studio time was paid for my a local record shop called "Feelgood" Records and it was produced by 'Urban Blitz' of Doctors Of Madness who had travelled up from London especially to produce it. Sadly this was the band's only recordings but rumour has it that a live reel to reel tape does exist from the "F-Club", which was in Leeds and were very much an important venue in the early days of Punk. Jacko from the band is searching high and low for this missing gig.
The bands last gig took place at the "De Grey Rooms", York on Saturday 13th May 1978 along with 'Rite Off', 'The Issue', 'The Straits'. Bizarrely this performance was filmed for the local University T.V. Station and was broadcasted the very next day. Only Kelvin from the band was luckily enough to catch it.... Unfortunately, because of the cost of the recording tapes in those days it was wiped and recorded over before any of the band could request a copy! Yet another important piece in British Punk History gone forever...
After the split of 'The Jermz', Mike (Normal) Gibson joined forces with other local band (well Bradford) member 'George Mazur' of 'The Scene' (the band that released 'Hey Girl) and helped to form an early version of 'The Godfathers'.
Kelvin Knight, the drummer went on to be the drummer of 'The Jerks', then 'Delta 5' but was last seen playing drums for a re-vamped version of 'The Chameleons'.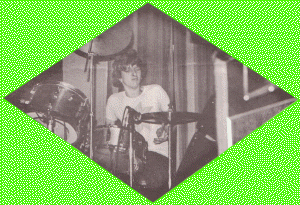 "Kelvin Knight"
©Detour Records