GREAT BRITISH HEROES

AKA

"GBH"

London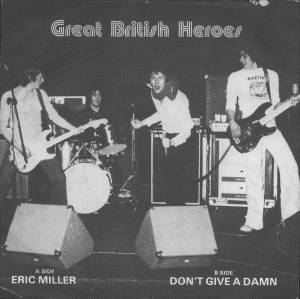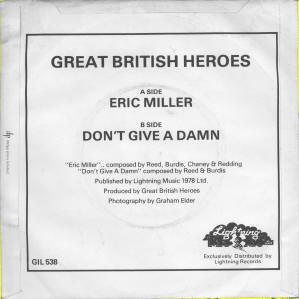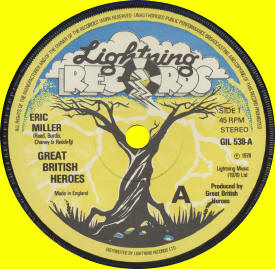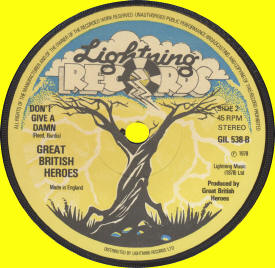 Eric Miller / Don't Give A Damn 7"
Catalogue Number - GIL-534
Label - Lightning Records
Year Of Release - 1978
Quantity Pressed - ??????

(Only one known copy has surfaced)
Note: withdrawn before release. Only a handful of copies exist.
*****
| | |
| --- | --- |
| Ray Burdis - Vocals | Graham Reed - Lead Guitar |
| Russell Chaney - Drums | Ken Redding - Bass |
Great British Heroes had their roots in Stars & Stripes, a North London band formed early in 1976 by Ray Burdis (v), Graham Reed (gtr), Vince (b) and Rowland Rivron (d). In mid-'76 Rivron quit (later to be a TV celebrity) and was replaced by Russell Chaney; a few months later Vince also left, and with a temporary stand-in bassist it was this line-up which made its debut as Great British Heroes with a gig supporting Renoir (whose lead singer was 'Quadrophenia' star Phil Daniels, see listing) at Enfield Town Football Club early in 1977.
In the summer Ken Redding (ex-Uncle Sam) took over on bass and in the autumn the group entered Strawberry Studios in London
to record a single for Lightning Records. At Christmas Great British Heroes hired a manager, Jeff Miller, whose lawyer promptly
declared the proposed Lightning contract "not a good idea": the single was shelved, and in November 1978 the Lightning discography
published in ZigZag's Small Labels Catalogue was still listing the record as being "suspended until further notice". For the next two years, and without a record release to help the band's profile, Great British Heroes (or GBH, as they were sometimes advertised) played all the usual London venues including The Rock Garden, Upstairs at Ronnie Scott's, the Nashville and even the Roxy, as well as touring
Denmark. Eventually, in late 1979 Ray Burdis quit to concentrate on film work (as both an actor and director he would become a central
figure in British TV and cinema); by early 1980 Graham Reed had assumed lead vocals with the combo adding Mick Feleppa on second
guitar. Ken Redding and Russell Chaney departed in mid-1980 and formed The Attendants; Redding later had stints with The Prisoners
of Rock'n'Roll, Manifesto, then The Irresponsible Dads, before reuniting with Chaney in the Cane Toads; Redding then played
with a cover band called Granite, while Chaney joined Texas Thunder. Reed and Feleppa formed a new edition of Great British
Heroes (or, more precisely, GBH as they had become exclusively known by this time) with Steve Wilde on vocals, Andy Jack on bass and Graham Roberts on drums. The re-vamped group were active until 1982: Reed and Feleppa subsequently formed Havoc, while
Roberts resurfaced in Omega. What separates the group from countless other recording / gigging bands of the period is that they are
responsible for one of the rarest UK Punk records: in 2002 a copy of their single surfaced, resplendent in full Punk Rock picture
sleeve and boasting two tracks of 100% Punk Rock music – it turns out that Lightning did actually manufacture the combo's single after
all! The A-side ERIC MILLER (inspired by the story of a businessman who committed suicide while under investigation by the fraud
squad) is the stand-out number: a wild three-chorder not too far removed from The Leyton Buzzards' 19 AND MAD, only better. The flipside DON'T GIVE A DAMN is a stereotypical 1977 Punker which clocks in at under two minutes and offers in raw energy more than what it lacks in inventiveness. A recommended single, and, with even Great British Heroes themselves having been previously unaware of its existence, impossibly rare.
The above text is courtesy of Steve Mitchell and Mario Panciera

and has been taken from the book "45 Revolutions".
Thanks to Russell Chaney, Ken Redding & Graham Reed
©Detour Records